Ninna Berger

Born 1980

Lives and works in Stockholm, Sweden

MFA & BFA Textiles, Konstfack, University College of Arts and Crafts, 2001 - 2007

Mail: info@ninnaberger.com
GRANTS:

International Exchange and Travel Grant, The Swedish Arts Grants Committee, 2016

Studio Support, City of Stockholm, 2016-2018

1-year Working Grant, The Swedish Arts Grants Committee, 2015

Iaspis Residency Scholarship, SPACE / London,The Swedish Arts Grants Committee, 2014

International Exchange and Travel Grant, The Swedish Arts Grants Committee 2014

International Exchange and Travel Grantt, The Swedish Arts Grants Committee, 2013

International Exchange and Travel Grant, The Swedish Design Society, 2012

Project Grant, The Swedish Arts Grants Committee, 2011

Travel Gant, Estrid Ericsson Fund, 2006, 2007 & 2008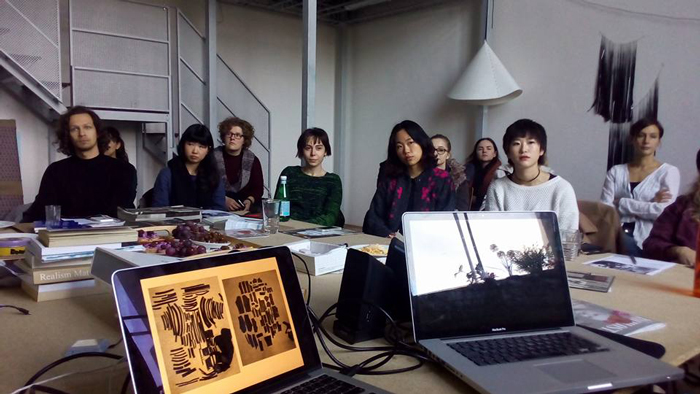 ACTIVITIES / UPCOMING SHOWS:
You Should have Thought of that Before, hangmenProjects, 29th of September - 21st of October, Stockholm, Sweden
We Are Here, Public art installation for Värnamo Folk High School, comissioned by the County Council of Jönköping. Inagurated June 2017.
AIR at Flaggfabrikken, Bergen, Norway, February - March 2017
Why Does it Feel so Good?, Örnsbergsauktionen, Stockholm, 2017
Guest Lecturer, Visual Arts Department, Umprum Academy of Arts, Architectureand Design, Prague, Czech Republic, 2016
Guest Lecturer / Tutor, Textile Department, Konstfack University College of Arts, Crafts and Design, Stockholm, 2016
From the Same Mother (Fiction, Reality and Dreams), soloshow, opening 18 November 2016 at Galerie A.M180, Prague, Czech Republic
8 Hours of Night, 5 October - end of the Swedish winter, Konstfrämjandet Stockholm, 2016
Or At Least all the Ones She Let the World See (Peeling), 17 September - 29 Oktober, Lethaby Gallery, London, 2016
http://metamorphoses-exhibition.com/, curated by Vilma Luostarinen, London, 2016
Yes, Please?, Tillbaka till Framtiden, curated by Dennis Dahlqvist, Österlens Museum, Sweden, 2016

New Arrivals for New Beginnings, Dům módy, group show curated by Vaclav Janoscik,

Galerie Hraničář

, Ústí nad Labem, Czech Republic
, 2016
AIR at Circolo Scandinavio, Rome, September & Nov-Dec 2015
Enjoy Every Mouthful, soloshow, The White Building, London, 2015
AIR at Space/The White Building, London, November - February 2015
sponsored by IASPIS
Thank You Vaclav Janoscik for inviting me to talk to the students at Umprum Academy of Arts, Architecture and Design, Prague, Czech Republic, November 2016.
Photo by Vaclav Janoscik
I work with sculpture, installation and text where material connected to memory and activities plays a big part. Material, artifacts and stories that I find and encounter transforms into work (words and objects) that form an interconnecting composition. Failure (honesty), time (expectations), and space (movement) is used as tools in my method and connecting parameters in my work.